Joy
Description
Your recycled and sustainable multipurpose towel. No matter where you go - to your morning yoga class, to the warm and sandy beach during your adventurous travel, a sunset surf or just to relax in your favorite park under some trees - from now on Joy will be part of your wonderful journey.
May Joy bring fun and positive vibes to your life. Let her remember you to live with trust and joy as often as you can. Let Joy be your ever-smiling partner in crime and inspire you to go out to dance in the rain next time.
Are there situations where your personal Joy moment is still missing? Wouldn't it be awesome if you could celebrate these moments every single day? Too often severity controls our daily life, but that doesn't have to be. It is possible for everyone to realize their dreams and therefore fill our lives with joy – for you, too.
Seize your ISLE OF MIND to connect with your dreams again and again. It is your right to have an extraordinary, unique and magic life. If it is one of your dreams to start your own fulfilling business, take a look at the ISLE OF MIND academy. We help you to find your authentic heart-business idea and to get your idea realized. One way or another, it is always best to bring more joy into life and therefore follow your heart. This is exactly what Joy was made for. Namaste.
Details
♡ Free, CO2 neutral delivery within the EU
♡ Sand repellent
♡ 8 recycled plastic bottles used in each towel
♡ Antibacterial and odour-resistant
♡ Sweat and moisture activated grip for intense yoga sessions 
♡ Quick drying and highly absorbent
♡ Perfect size for beach and yoga (180x76cm)
♡ Lightweight (470gr) and compact
♡ Manufactured within the Global Recycled Standard (GRS)
♡ 80% Polyester, 20% Polyamide
♡ Washing recommendation: 30 degrees and with your Guppyfriend Washing Bag
♡ Perfectly used on a yoga mat or non-slip floor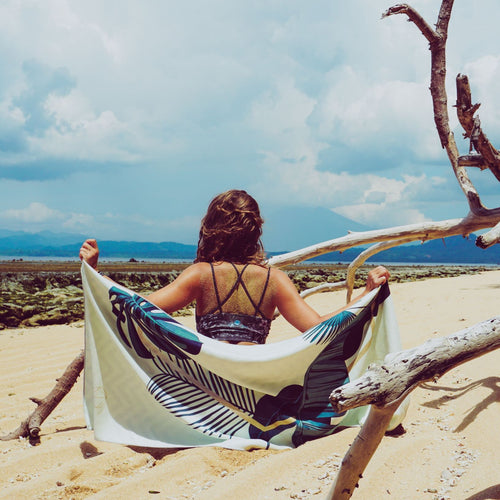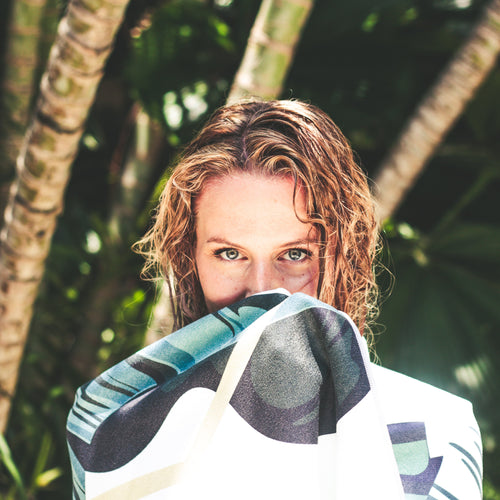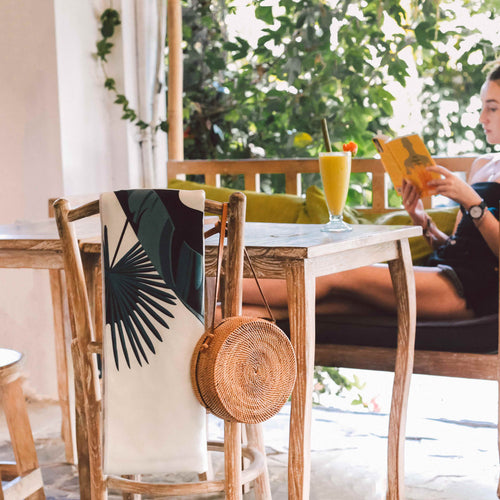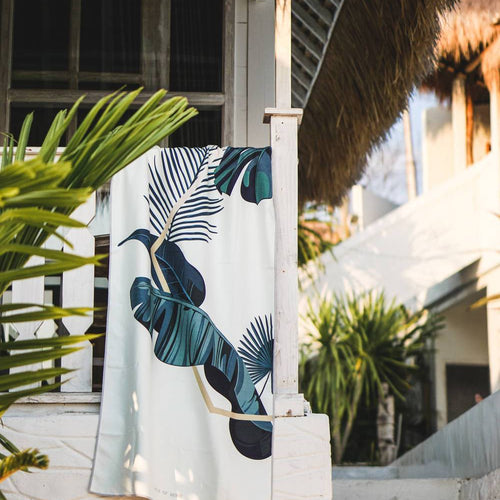 Why shop with us?
It's time to take responsibility and act for change
Free, fast and CO2 neutral shipping within Europe
We believe in your potential to create a better tomorrow
Donation to the Surfrider Foundation for every order
Plastic-free, vegan and biodegradable packaging
Ein überraschend gemütliches Strandtuch!
Obwohl die all-in-one Yogadecke, Strandtuch und das Handtuch zu 100% aus Kunststoff ist (von dem die Hälfte erfreulicherweise aus recycelten Plastikflschen stammt!), war ich überrascht wie angenehm hochwertig und kräftig die Haptik ist. Geradezu flauschig! Auch die Qualität der Verarbeitung insgesamt und die des Druckes ist überzeugend. Lediglich den gekettelten Rand des Tuches finde ich nicht ganz überzeugend. Ich habe das Isle of Mind Mikrofasertuch noch nicht viel benutzt, aber es macht den Eindruck das es sehr lange halten wird!
Absolutes Lieblingstuch
Ich benutze das Tuch am aller liebsten am Strand oder an der Isar, es ist super leicht, trocknet extrem schnell und sieht dazu noch mega cool aus. Perfekt ist es auch für die Yogamatte, vor allem dann wenn man auf fremden Matten praktiziert. Dazu kommt noch der nachhaltige Aspekt der alles rundum perfekt macht - kann es jedem weiterempfehlen!
Lieblingsteil
Ich liebe das Handtuch! Gerade fürs Yoga super geeignet, perfekte Größe, wunderschönes Design, top Qualität und super Grip.
Hatte es auch schon beim Reisen dabei. Selbst bei mehrmaliger Benutzung null Geruchsbildung wie ich es sonst bei leichteren Handtüchern kenne. Man merkt einfach die top Qualität!
Absolutes Lieblingsteil im Schrank!
Almost perfect
The towell is a little bit slippery to do yoga.
The rest is perfect.
Thank you very much
Hi lieber Marco :-). Danke für Dein Review. Hast du tendenziell sehr trockende Hände bzw. Füße? An welchen 'Stellen' würdest du dir mehr Rutschfestigkeit wünschen? Der Grip aktiviert sich erst durch Feuchtigkeit (moisture activated grip) wie bspw. Schweiß oder wenn du ein paar Wassertropfen vor der Benutzung auf den Hand- bzw. Fußbereich verteilst. Hast du das mal ausprobiert? Gerade, wenn dein Tuch nass ist, ist der Grip richtig stark. Bin total gespannt, ob Du damit besser zurecht kommst. Vor allem, da super viele Kunden gerade diese technische Textilkomponente sehr feiern. Halte uns auf dem Laufenden. LG Simon