Purity
Description
Your recycled and sustainable multipurpose towel. No matter where you go - to your morning yoga class, to the warm and sandy beach during your adventurous travel, a sunset surf or just to relax in your favorite park under some trees - from now on Purity will be part of your wonderful journey.
Let Purity become your personal symbol that reminds you to bring more clarity, simplicity and purity into your life. It will allow you to spend your day in a more relaxed way and allow you to focus on the really important things. There is so much magic in the little breaks of the day. Take Purity with you and start celebrating these powerful moments.
Creating clarity starts with you. Only you. Be honest with yourself: are you in peace with yourself and your life? Are you fulfilled by the things you invest your energy in? We usually find the feeling of fulfilment in the things we love. We can help you to achieve this.
Seize your ISLE OF MIND to connect with your dreams again and again. It is your right to have an extraordinary, unique and magic life. If it is one of your dreams to start your own fulfilling business, take a look at the ISLE OF MIND academy. We help you to find your authentic heart-business idea and to get your idea realized. One way or another, it is always best to have your goals straight in front of you and thus be able to follow your heart. This is exactly what we have designed Purity for. Namaste.
Details
♡ Free, CO2 neutral delivery within the EU
♡ Sand repellent
♡ 8 recycled plastic bottles used in each towel
♡ Antibacterial and odour-resistant
♡ Sweat and moisture activated grip for intense yoga sessions 
♡ Quick drying and highly absorbent
♡ Perfect size for beach and yoga (180x76cm)
♡ Lightweight (470gr) and compact
♡ Manufactured within the Global Recycled Standard (GRS)
♡ 80% Polyester, 20% Polyamide
♡ Washing recommendation: 30 degrees and with your Guppyfriend Washing Bag
♡ Perfectly used on a yoga mat or non-slip floor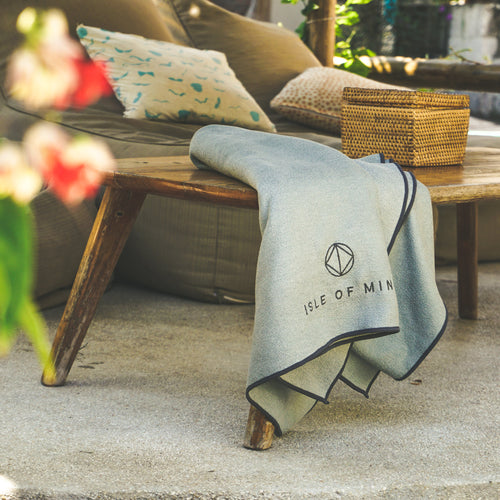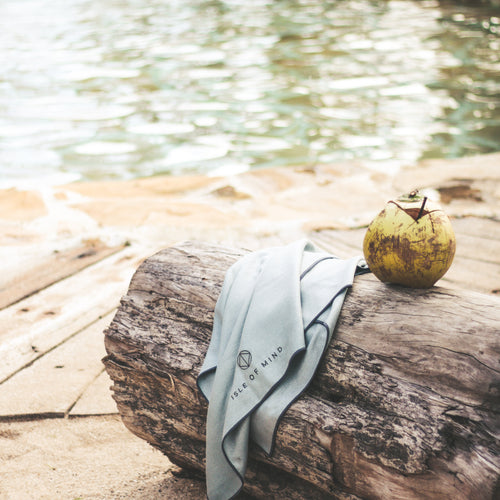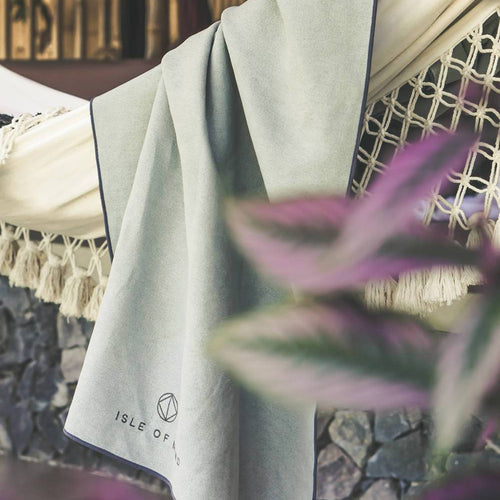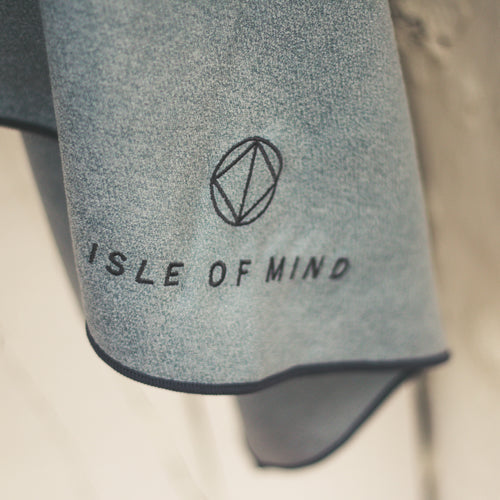 Why shop with us?
It's time to take responsibility and act for change
Free, fast and CO2 neutral shipping within Europe
We believe in your potential to create a better tomorrow
Donation to the Surfrider Foundation for every order
Plastic-free, vegan and biodegradable packaging
Great towel!
I am really satisfied with the quality and how light and compact the towel is - great for travelling.
Well done
Not really suitable for yoga - misses grip.
Lieber HaPe.
Ich hatte gerade gesehen, dass du nicht zufrieden bist mit dem Grip deines Yoga- und Reisehandtuchs. Zunächst tut mir das super Leid. Nach über 500 Handtüchern und glücklichen Kunden bist du tatsächlich die erste Person, die unzufrieden ist. Das ist wirklich super schade und geht mir als Gründer und Entwickler des Textils ehrlich gesagt auch nahe. Es steckt super viel Arbeit und endloses Tüfteln zum bestmöglichen Material im Handtuch. Insbesondere bei der Balance zwischen Saugfähigkeit, Weichheit und Grip fürs Yoga. Wir haben sehr lange an der Materialkomposition getüftelt.

Der Grip aktiviert sich erst durch Feuchtigkeit (moisture activated grip) wie bspw. Schweiß oder wenn du ein paar Wassertropfen vor der Benutzung auf den Hand- bzw. Fußbereich verteilst. In der Tat haben wir viele Kunden, die insbesondere den Grip loben. Zitat: 'So genial, endlich habe ich eine Lösung für meine schwitzigen Hände und das Wegrutschen' gefunden. Sowas hören wir (eigentlich) ständig. Sei es von Privatpersonen, Hotels, bekannten Yoga Blogs oder auch Studios. Deswegen ist das wirklich super schwer nachzuvollziehen für mich.

Hast du tendenziell sehr trockene Hände und Füße? Den Stoff haben wir bewusst so entwickeln lassen, damit das Towel für viele Aspekte einsetzbar ist. Nur so konnten wir sicherstellen, dass es sich so weich anfühlt und damit perfekt für den Strand, See etc. geeignet ist.
Melde dich gerne nochmal und selbstverständlich kannst du kostenfrei dein Yoga- und Reisehandtuch zurücksenden. Wenn dir das zu umständlich ist, erstatten wir dir auch ohne Rücksendung das Geld.
Wir wollen, dass du zu 100% zufrieden und im Idealfall genauso begeistern von deinem Towel bist, wie wir.
Liebe Grüße
Simon
Really nice towel! Love it!
Really nice towel! Love it!
I bought the Pure Pete towel and the color is amazing and exactly like in the pictures.
I bought the Pure Pete towel and the color is amazing and exactly like in the pictures. The microfiber material makes it very easy to fold the towel super small and take it on holiday. It dries you off perfectly, just realize that it isn't as super soft and comfortable as thick shower towels.
Vor allem die Vision hinter Isle of mind hat mich überzeugt!
Vor allem die Vision hinter Isle of mind hat mich überzeugt! Ich bestelle gerne bei Simon und kann das mit einem umweltbewusstem guten Gewissen! Weiter so :)