Confidence
Description
Your recycled and sustainable multipurpose towel. No matter where you go - to your morning yoga class, to the warm and sandy beach during your adventurous travel, a sunset surf or just to relax in your favorite park under some trees - from now on Confidence will be part of your wonderful journey.
Your goal is right in front of you? Go for it. Let Confidence remind you that everything you want to achieve is possible and that it is up to you to find the way. Stop waiting for a better moment. The best time is now.
Believe in yourself and your dreams, only then your goals will become tangible. You think you are not able to realize your dreams and want to change that? This is a challenge, but confidently and full of trust you can get closer to your dreams every day.
Seize your ISLE OF MIND to connect with your dreams again and again. It is your right to have an extraordinary, unique and magic life. If it is one of your dreams to start your own fulfilling business, take a look at the ISLE OF MIND academy. We help you to find your authentic heart-business idea and to get your idea realized. One way or another, it is always best to trust your own strengths and thus be able to follow your heart. This is exactly what we have designed Confidence for. Namaste.
Details
♡ Free, CO2 neutral delivery within the EU
♡ Sand repellent
♡ 8 recycled plastic bottles used in each towel
♡ Antibacterial and odour-resistant
♡ Sweat and moisture activated grip for intense yoga sessions 
♡ Quick drying and highly absorbent
♡ Perfect size for beach and yoga (180x76cm)
♡ Lightweight (470gr) and compact
♡ Manufactured within the Global Recycled Standard (GRS)
♡ 80% Polyester, 20% Polyamide
♡ Washing recommendation: 30 degrees and with your Guppyfriend Washing Bag
♡ Perfectly used on a yoga mat or non-slip floor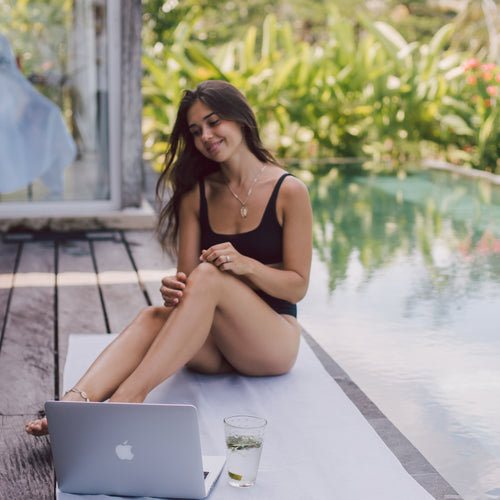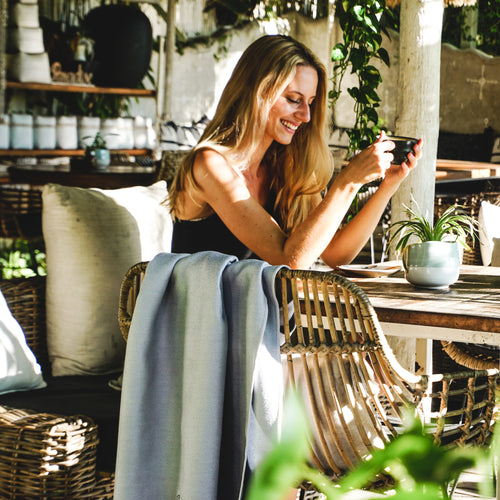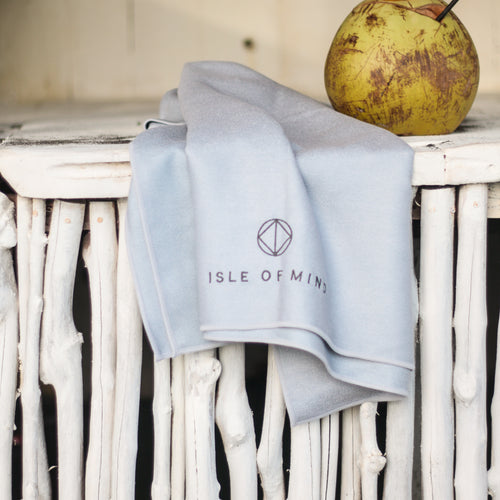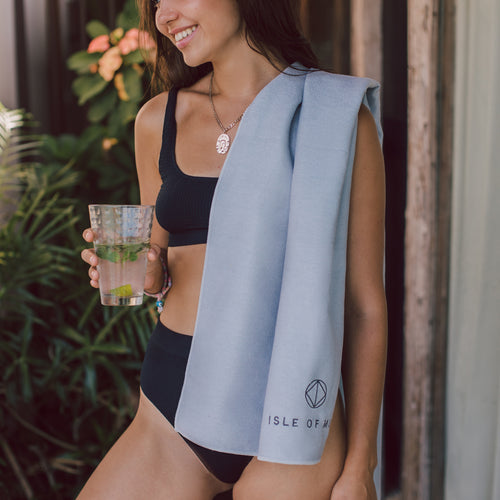 Why shop with us?
It's time to take responsibility and act for change
Free, fast and CO2 neutral shipping within Europe
We believe in your potential to create a better tomorrow
Donation to the Surfrider Foundation for every order
Plastic-free, vegan and biodegradable packaging
Lieferung in die Schweiz?
Hallo, ich würde gerne ein Tuch in die Schweiz bestellen. Ist dies irgendwie möglich? Ich habe kein Komtaktformular gefunden um Fragen zu stellen, daher die Frage via Review. Danke für eine Antwort :)
Richtig gut!
Endlich ein Sporthandtuch, das wirklich trocknet, super angenehm auf der Haut ist und den Sand richtig gut abhält - absoluter Favorit!
Sehr angenehme und auch optisch schöne Handtücher
Sehr angenehme und auch optisch schöne Handtücher. Man hat damit natürlich auch zusätzlich etwas für die Umwelt getan. Tolle Idee